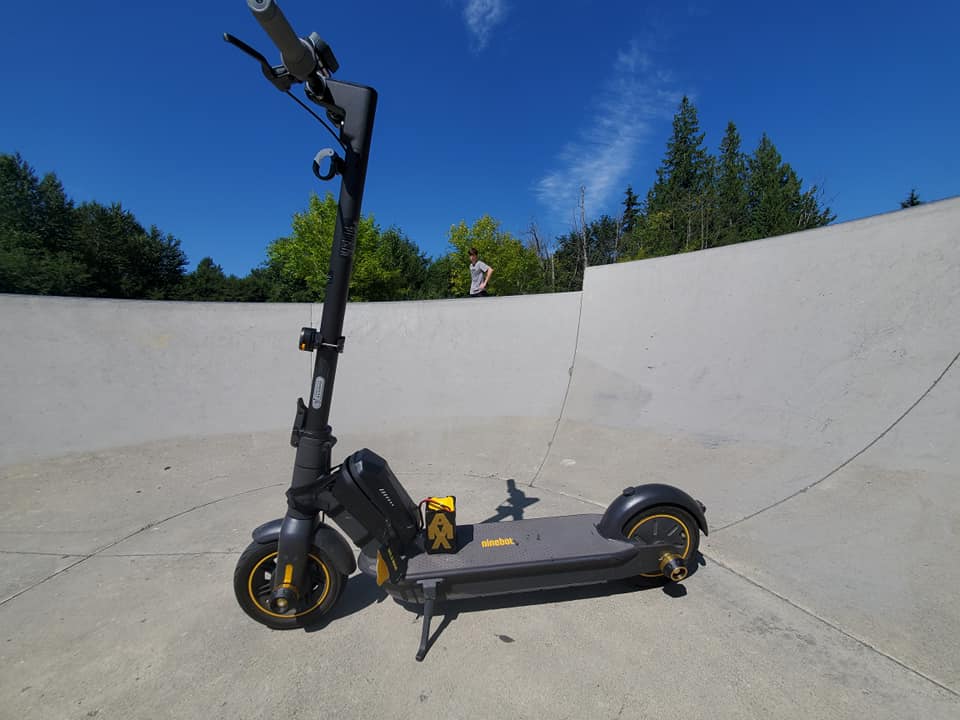 Frequently Asked Questions
Here are answers to some of our most asked questions. Feel free to reach out if you still need help. A lot of great info can be found on our Facebook Group and Page as well!
Q: What is the difference between external & internal kits?
A: Internal kits refer to replacing the stock battery from the max with a full 48V battery. The stock Max batteries are 7.5 amp (2200mah) cheap cells from China. So, by replacing the whole battery, you will be replacing the cells with "Grade A" high-end cells. The internal battery upgrade requires a display kit to show battery percentage, these can be added yourself or plug & play kits. (Here)
*Note -Internal & External kits work in all modes (Eco, Drive ,Sport)
A: External kits refer to using both the stock battery and our externally mounted battery. The external kit mounts in a water-resistant bag on the outside of the scooter, and works together with the stock battery to achieve the 48v. Because the external kit retains the factory system, all features will work the same with the external pack as OEM. You will get faster speeds and more range!
Q: What's the top speed I will get with this modification?
A: There is a lot of misinformation out there due to fake videos & false claims. The max top speed at 48v will be 26-28mph for a gen 2 motor & 23-25 mph on a gen 1 motor under load (riding). The Max will do 32 mph freewheel (no load and motor in the air) or downhill. Other variable factors come into play – such as rider weight, terrain (hills), etcetera that will affect top speed.
Q: What range will I get?
A: Most members report getting 30-32 miles of range at top speed with a higher powered custom firmware. Some have even gotten 40 miles with a more conservative firmware. Winter range will differ, as batteries perform differently in cold weather.
Q: How hard is it to install your kits & how long does it take?
A: All of our kits are designed to be plug and play! They're built with the "K.I.S.S." Method (keep it simple stupid). This means WE do all the hard work for you – NO soldering, NO cutting, NO drilling necessary! When you receive your kit, all you have to do is plug it in! Within 30 minutes you're up and running – with nothing to focus on but having fun!
Q: What tools do I need?
A: We include everything you need in the kit other than a torx security bit to remove the bottom cover of your scooter. These are available for purchase on Amazon for around $7.99.
Q: Do I have to use custom firmware? What if I do not have an Android phone?
A: Yes, all of our kits require custom firmware which we will send to you after you've placed an order. There are multiple ways to flash the Max, but we recommend (Xiao Flasher) which is available on the Android Store. This app can be used with any Android phone, tablet or PC emulator. If using a PC, you'll want to download (Ninebot Flasher) from the Microsoft Store. Both options require Bluetooth capabilities. Alternatively you can purchase an inexpensive tablet or phone (for about $59.99 on (Amazon) or around $20 for a used one from your favorite buy/sell/trade app like Facebook Marketplace or OfferUp).
Q: How does it charge?
A: The external kit comes with its own charger. Once it is installed, you simply plug the charger into the power jack (located in the provided bag) and plug the stock battery in like normal. Our internal kits come with a 48v charger that simply plugs into the stock port of the Ninebot Max.
Q: Does this work with all versions of the Max? G30L & G30LP
A: Our external & Internal kits work with both models, and the installation is the same regardless of which version.
Q: I see different internal kits, what are the differences?
A: We have 2 internal options- Gold Edition (21ah), & G30LP (20ah). Amp hours (ah) refer to the capacity of the pack. Think of amp hours as the size of the gas tank – the larger it is, the farther you can go.
Q: What is your warranty?
A: All battery packs have a 90-day warranty from time of purchase. This covers any defects due to workmanship or product failure. You must use the provided firmware to keep your warranty. Any personal firmware not tested by us will void your warranty. If you are within the coverage, Max Mods will cover parts and labor for replacement, but customers are responsible for the cost of return shipping. For external packs, warranty covers workmanship, but does not cover neglect (forgetting to charge the pack)